About

---
Sue Lurie Certified Holistic Therapist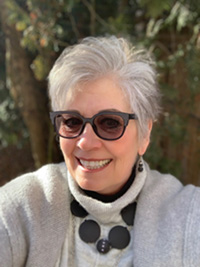 I have quite a diverse and extensive work background in the fields of retail, distribution and manufacturing that expands to the international sector in addition to my jewelry, fashion styling and stained glass designing. I also found an additional passion as I endeavored into the holistic field of healing in 2000 and then started up my own company, La Refléxothérapie in 2001.
La Réflexothérapie is committed to offering Reflexology with Chinese Meridian Therapy, CranioSacral Therapy, SomatoEmotional Release Therapy, Voice Dialogue, Reiki and other wellness concepts as a health enhancement program.
I am very passionate about my commitment to these integrative health sciences. I completed my studies for reflexology at the International Academy of Reflexology and received my certification from the Ontario College of Reflexology. I am also certified in Chinese Meridian Therapy from the Inge Dougans International School of Reflexology and Meridian Therapy. I received my certification in CranioSacral I and II and SomatoEmotional Release I & II from the Upledger Institute. I received certifications from Betsy Wetzig Movement Therapy and Healing from the Core Therapies by Suzanne Scurlock-Durana. Other studies include my training in the Voice Dialogue Techniques by Hall & Sidra Stone. I have completed all the requirements for the Silva Method as well as being certified as a Reiki Master. I perform the ancient arts of Ear Candling and Cupping. I also have several certifications in Bendable Body stretching that works on healing the fascia.
I am always excited to bring my healing gifts to everywhere I work which allows me to compliment all the other qualified professionals I may work with. My presence in the healing field grows as I bring my work to nursing homes, delivery rooms, corporate settings, speaking engagements and private homes. Travel is welcome in my work when ever it is required. "Dual-Multiple Hands On" therapy with other practitioners working on clients "at the same time" is a very powerful addition to healing that I also encourage. I welcome you to contact me and will be happy to discuss your individual concerns.


---
Her Mission
To work towards wellness in your body by encouraging it to correct itself. ...encouraging clients to empower themselves ...promoting a natural path to wellness.
Educating clients to embrace who they are ...to address your specific needs with her multiple modality certifications and to introduce you to other professionals providing progressive therapies to help you make conscious, educated choices about alternative care most appropriate for you.


---
Her Commitment
The benefits of all the modalities she performs have inspired her to pursue a life long desire to help people to be the best they can be in mind, body and spirit....To compliment & support all the extraordinary professionals she works with.
---
Her Result
These persuasive, yet non-invasive therapies will encourage complete body balance to maintain optimum health conditions. Her comprehensive studies have permitted her to have worked on thousands of people, seeing significant, positive results and improvements to all...Being present in each moment of your life.